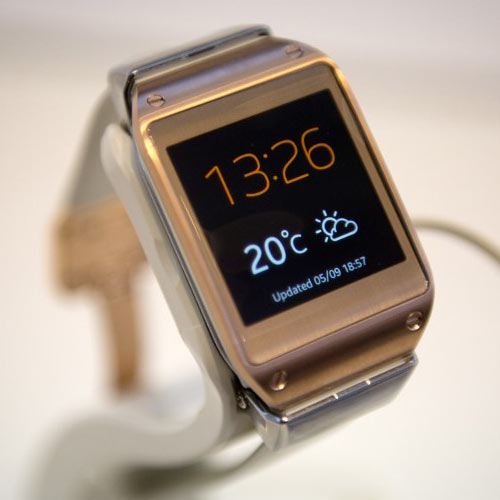 Samsung Galaxy Gear - AFP
In a bid to promote its latest smart watch Galaxy Gear, Samsung has reportedly taken to sci-fi heroes being the pioneer users of smartwatches in its new ad.
Samsung's new ad goes with the claim that people's favourite heroes have 'ALWAYS' talked to their watches, featuring Dick Tracy, Captain Kirk and even Fred Flintstone.
According to Cnet, Samsung is trying hard to sell its 'Next Big Thing' Galaxy Gear smartphone, after consumers found it falling short of expectations.
With Apple next in line for its iWatch release, it is speculated that smartwatches might be able to get more consumer attention after the tech giant's anticipated launch.
Is Google Readying for its Smartwatch Launch on Oct.31?
Will Samsung's Galaxy Gear, Sony's Smartwatch 2 force Google to enter the race for next generation mobile devices when the Android Jelly Bean sequel Kitkat hits the market?
Going by tech news reports, leaks and rumours, Google is up its sleeve to unroll new smartwatch, close on the heels of its successful Google Glass venture. Reflecting more like a band, it may be the next generation's "Mobileband".
According to 'Android Police' website writer Artem Russakovskii, it makes slightly more credible though he fails to substantiate his views. Google has not confirmed nor refuted the report so far.
Russakovskii was confident that the Google smartwatch will be announced on October 31, alongwith the release of Kitkat. "None of this may end up being true, though I have a good level of confidence in the sources," he writes.
Not far behind, even Apple is also believed to be readying the iWatch, with many more stunning features as an independent carry-alone piece unlike the Samsung's add-on piece with a mobile phone.
Nokia Lumia 1020: A photographer's smartphone
Photography enthusiasts can enjoy a DSLR-like imaging experience on a smartphone
Image Credit: Atiq-ur-Rehman/Gulf News
Nokia Lumia 1020 at the Nokia stand during the Gitex Shopper at the Dubai World Trade Centre exhibition hall.
Dubai: Nokia launched its Lumia 1020 with a great stress on imaging innovations. The second-generation 41MP imaging sensor is designed to remove the complexity of photography while enhancing the creativity of imaging enthusiasts in the way consumers shoot, edit and share pictures.
Nokia had launched its first-generation 808 PureView with 41MP last year.
The 4.5-inch Amoled display with 1280 x 768 pixels resolution is powered by dual-core 1.5GHz Qualcomm Snapdragon chip, same as in the Lumia 920 and 820. Lumia 1020 has 2GB of RAM and 32GB internal storage. It does not have a microSD slot for storage expansion but gives 7GB cloud storage free.
It runs on Windows 8 operating system. The Gorilla Glass 3-protected screen on the front and the back is made of scratch-resistant polycarbonate material Nokia uses for its Lumia models.
The camera is the main selling point of this device. It features a 1/1.5-inch sensor size, geo-tagging, face detection, optical image stabilisation, 3x digital zoom, ISO settings between 100 and 4000, and shutter speeds between 1/16,000 of a second to 4 seconds, Bing Vision for barcode and QR code scanner, Smart Cam for burst shots, dual capture and panorama.
Using the dual capture feature, two images are captured at one shot. One is 5MP for sharing on social networks and the other is a 38MP photo (34MP for wide-angle) for editing opportunities.
Nokia claims the Carl Zeiss lens delivers clear photos in low-light conditions plus blur-free videos in stereo sound. The front has 1.2MP wide-angle front-facing camera, 1020 records video in Full HD format at 30 frames per second in default mode while recording at 720p resolution at 24 and 25 frames per second. It is priced at Dh2,699 with free bundles worth Dh529.